Relax and Enjoy a Private Red Light Therapy Experience.
LOOKING FOR A NATURAL AND EFFECTIVE WAY REDUCE STRESS, IMPROVE SKIN HEALTH, AND EVEN REDUCE INFLAMMATION? LOOK NO FURTHER THAN RED LIGHT THERAPY! WITH ITS MANY BENEFITS FOR THE BODY AND MIND, RED LIGHT THERAPY IS BECOMING A POPULAR CHOICE FOR PEOPLE OF ALL AGES AND LIFESTYLES.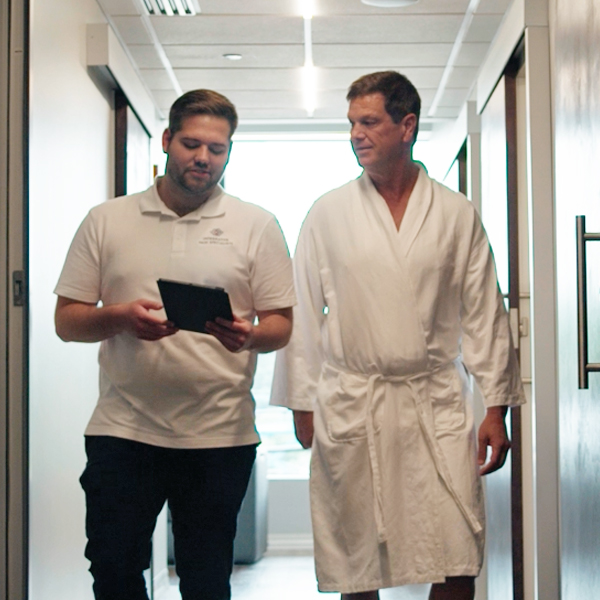 What is Red Light Therapy?
Red Light Therapy sends energy from specific wavelengths of light energy into the tissue to obtain therapeutic benefits for a variety of things. These benefits include increased muscle recovery, pain reduction due to reduction of inflammation, improved skin health and reduction of stress.
What to Expect:
Our red light therapy bed is featured in its own private room to ensure your comfort and privacy. You are welcome to remove your clothing if you wish to be able to expose more of your skin to the therapeutic wavelengths. However, we ask that private areas remain covered during the entire session. You will lay inside of the red bed, similarly as you would inside a tanning bed and relax for your 15-minute session. Protective eyewear is not required.

Skin Health
Reduction of acne
Increase of collagen regrowth and production in the skin, which helps to give the skin its elasticity
Increasing fibroblast production, which helps produce collagen and other tissue fibers
Increasing circulation between blood and tissue cells
Protecting cells from damage
Increasing mRNA in the cells, which helps stimulate the cell
Improving skin texture
Reducing fine lines
Reducing wrinkle severity
Improve the appearance of scars
Improve sun-damaged skin

Anti-Inflammatory
Increasing circulation between blood and tissue cells can help to fight inflammation

Recovery/Healing
Reducing inflammation in the cells
Stimulating new blood vessels to form, which doctors call angiogenesis
Increasing helpful fibroblasts in the skin
Increasing collagen production in the skin

Mental Health
Red Light Therapy has been shown to be effective in helping reduce low energy associated with depression and anxiety disorders
Effective in combating seasonal affective disorder
How is red light therapy different from a tanning bed?
Red light therapy and tanning beds use different types of light and have different effects on the skin and body.
Red light therapy uses low-level light wavelengths that penetrate the skin's surface to stimulate cellular function and promote healing. This therapy is considered safe and can be used to treat a variety of skin conditions, such as acne, wrinkles, and psoriasis. Additionally, red light therapy can also promote collagen production, which can help improve skin elasticity and reduce the appearance of fine lines and wrinkles.
On the other hand, tanning beds use ultraviolet (UV) radiation to induce skin tanning. Tanning beds emit a higher level of UV radiation than red beds, which can lead to sunburn, premature aging, and an increased risk of skin cancer.
Will I be tan after doing red light therapy sessions?
No, Red Light Therapy does not cause tanning of the skin. The lights used in Red Light Therapy are in the visible or near-infrared spectrum, which does not contain UV (ultraviolet) radiation that is responsible for causing tanning or sunburn. In fact, Red Light Therapy is often used as an alternative to UV-based tanning, as it can help to improve skin health and appearance without the harmful effects of UV radiation.
How long does a red light therapy session take?
The duration of a red light therapy session can vary depending on the specific goals of the therapy and the device being used. In general, a single session can range from a few minutes to up to 30 minutes or more.
The exact duration will depend on several factors, including your specific goals for the session and size of treatment area. However, our red light therapy sessions are typically 15 minutes in length.
Do I need protective eyewear?
Protective eyewear is not necessary during your red light therapy session as red light is not harmful for the eyes. In fact, there have been some recent studies linking red light therapy to improved eye health and eyesight. However, if you would like we have protective eyewear available for you to wear during your session.
Still have questions about our Red Light Treatments?
We'd love to hear from you!
Our experts have years of experience in providing these safe & effective treatments. If you have any additional questions, concerns, or hesitations, please reach out to us today!
"*" indicates required fields